MEET OUR 23/24 AIR
Symara Sarai and Kathryn Alter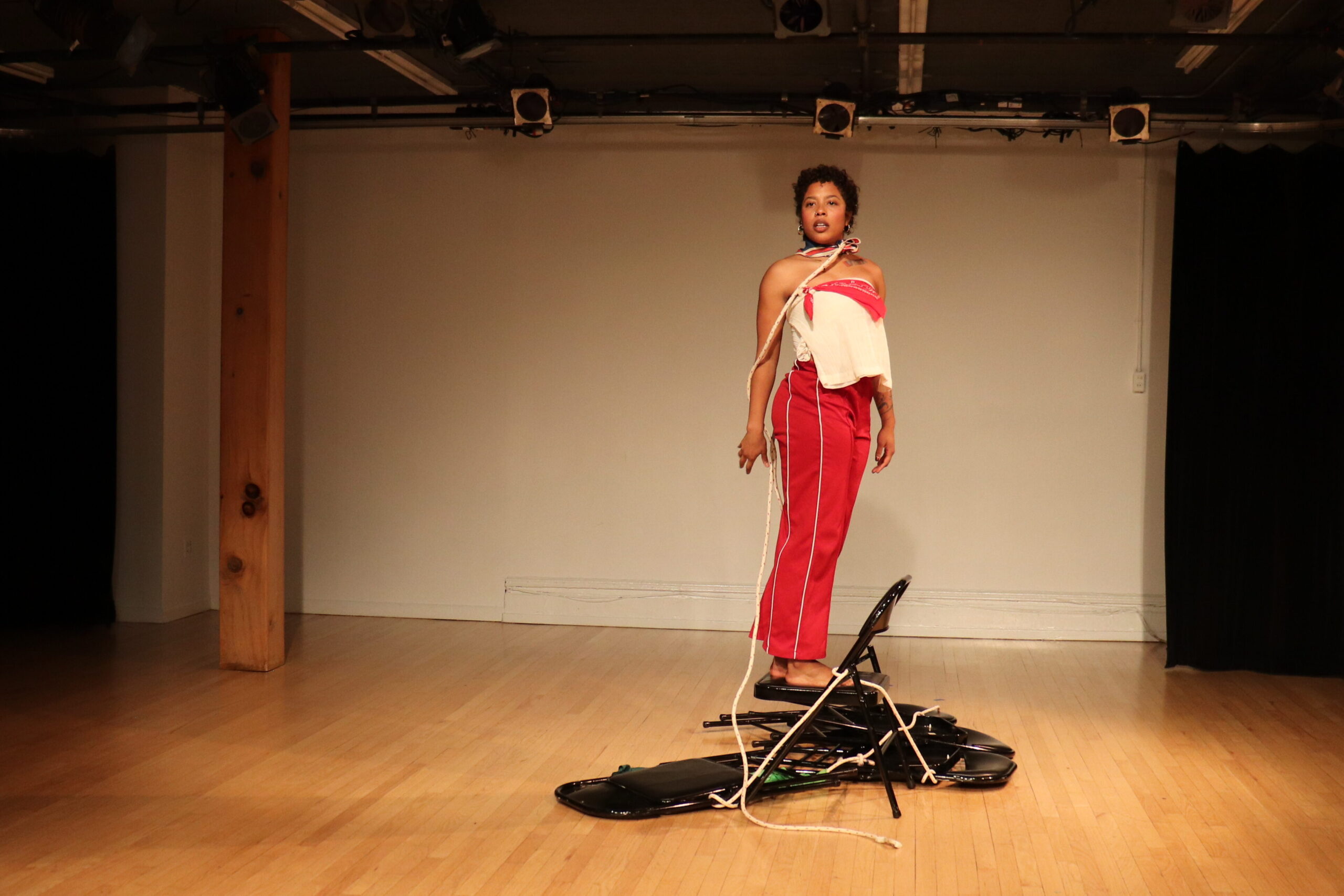 Symara Johnson Photo: Courtesy of Brooklyn Arts Exchange BAX
Symara Sarai, a Portland, Oregon native currently residing in Brooklyn, has immersed herself in interdisciplinary and choreographic studies globally. Her work varies due to the different influences she has embraced throughout her life. A 2023 Bessie Winner for Breakout Choreographer, Symara is also a recipient of the Dai Ailian Foundation Scholarship based in Trinidad and Tobago. The scholarship led her to Beijing, China where she spent two years gaining an associate degree in modern choreography at the renowned Beijing Dance Academy. Symara is a graduate of SUNY Purchase's Conservatory of Dance Program. She was a resident artist for Bearnstow, Gibney 6.2 Work Up, Gallim's 2022 Moving Artist's Residency, BAX's Fall 2022 Space Grant Program, and Center for Performance Research's 2022 AIR Program. She is a 2023 Women in Motion Commissioned Artist. Their work as a performer and maker has been reviewed and featured in the NY Times, Dance Enthusiast, Fjord, as well as promoted through Forbes. She has had multiple film works commissioned by Berlin-based choreographer Christoph Winkler. They have presented work at the WIP Showing at Bates Dance Festival, The Clarice at UMD, The LGBT Center, Judson Church, BAAD, WiM Salon, Chez Bushwhick, The Beijing Dance Academy Theatre, and other venues throughout the United States, China, and Germany. She is currently an Urban Bush Women company member. She has also notably worked with Jawole-Willa Jo Zollar, Joanna Kotze, Jasmine Hearn, Raymond Pinto, Ogemdi Ude, Ley Gambucci, Pioneers Go East Collective, Rena Butler, Kevin Wynn, Nattie Trogdon+Hollis Bartlett, Alexandra Beller, and Slowdanger, among others.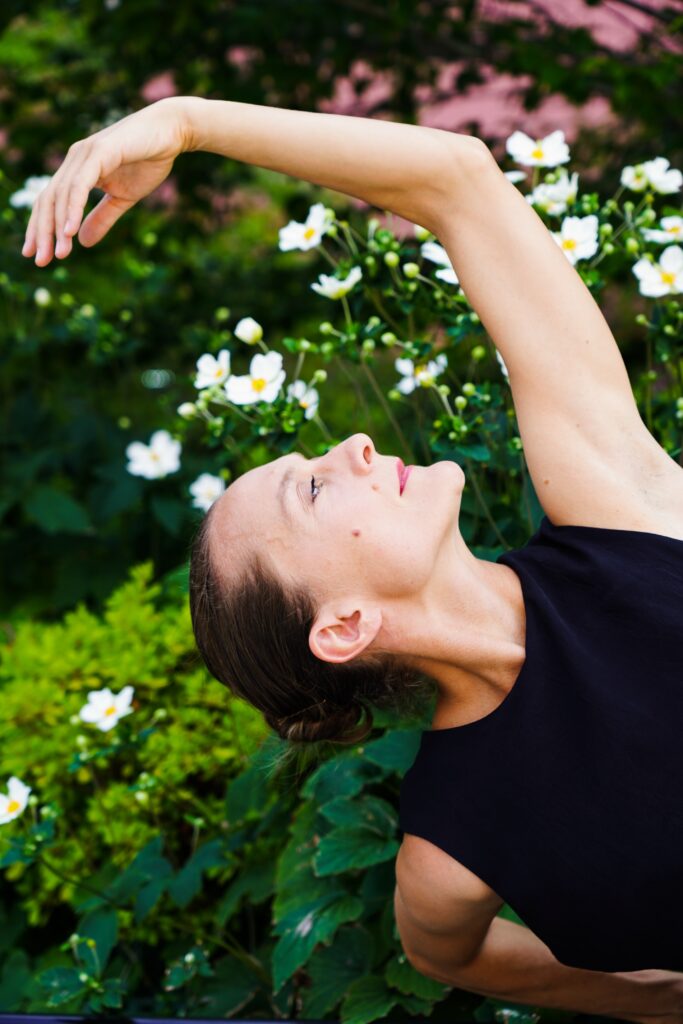 Kathryn Alter Photo: Melanie Conlon
KATHRYN ALTER is a choreographer, dancer, teacher, and musician.  Her choreography was most recently seen in the Kyoto Butoh Festival, in Alaska for Northstar Ballet of Fairbanks, and in NYC as part of the EstroGenius Festival at Cooper Union and the Storefront Pop-Up in the East Village. She is a 2023/24 Women in Motion commissioned artist.  Long term relationships and collaborations are integral to her work.  She and her collaborator, Ty Turley, have been exploring the possibilities of the integration of dance and media and the creation of virtual (https://www.kathrynalter.com/be-coming) and performance installations. Alter was a 2014 recipient of a CUNY Dance Initiative residency, and a 2018 Dance at Socrates Artist.  Upon completion of her MFA from Hunter College, Kathryn received the Chairman's Award for artistic excellence in 2020. She was a member of the Limón Dance Company for 15 years and is now Program Director for the Limón Professional Studies Program. She teaches the Limón Company, reconstructs the works of José Limón, and leads workshops nationally and internationally. 
Save the date!
AIR Showcase with Symara Sarai and Kathryn Alter
December 3, 2023 @ 3pm
Union Street Dance
725 Union St. Brooklyn, NY 11215
---
UNION STREET DANCE'S AIR PROGRAM
The purpose of the AIR (artist in residency) program addresses the insufficiency of resources available to dance-makers in the later stages of their development process. Artists receive a monetary re-grant and a space grant to for the continued development of a new work that is performed and presented in Union Street Dance with funding from Mertz Gilmore Foundation's Late State Creative Stipend funding.
2023 Artist in Residence

Photo: Jaqi Medlock

Amber Sloan is a NYC/Jersey City-based choreographer, performer, teacher, curator, and producer. Her work has been presented by Centro Cultural Los Talleres in Mexico City, The Yard on Martha's Vineyard, the EstroGenius Festival, Dance on the Lawn, Arts On Site, Roulette Theater, Dixon Place, Soaking WET at the West End Theatre, 92Y, Dance Safari, and Green Space, as well as a 19-year commissioning relationship with the DanceNow Festival. She has received space grants from Gibney Dance Center, Brooklyn Arts Exchange, Spoke the Hub, The Field, DanceNow Silo, and Mana Contemporary. As a performer, Amber has been a member of The Bang Group since 2002 and has performed in works by James Waring, Doug Elkins, Keely Garfield, Sara Hook, and Stephan Koplowitz. She teaches dance composition at The Ailey School and is the Assistant Executive Director of Arts On Site. Amber co-directs Women in Motion NYC and serves on the advisory board of Art Omi: Dance. She holds a BFA in Dance from the University of Illinois at Urbana-Champaign where she was honored with the 2015 Beverly Blossom/Carey Erickson Alumni Dance Award.

Dancers Chelsea Enjer Hecht, Daniel Morimoto, and Jordan Morley perform Amber Sloan's new work, tentatively titled "Waiting for the Other Shoe to Drop." Photo: Eva Dean
2022 Artist in Residence

Deborah Jackson is a classically trained dancer who has toured internationally and domestically. She is honored to have danced over the years with some famous folk (you know who you are) at Lincoln Center's David H. Koch Theater, The Joyce, St. Marks Church and The Guggenheim to name a few spots around town. As a choreographer her full-length evening works, Communication is Key and The Sleeping Giant were performed at The Ailey Citigroup Theater. In addition to dancing, Deborah is an ISSA Certified Personal Trainer with a Sports Medicine based specialization. She is a Qigong practitioner and teacher of a lineage practice through Qigong Master Robert Peng. She is currently humbled and honored to apprentice the Mind Body Method of this ancient form with Qigong Master Shifu Wu at Lotus Light Temple in little Chinatown in Brooklyn. Deborah has been a longtime admirer of binbinFactory / Satoshi Haga & Rie Fukuzawa. She is super stoked to be dancing with them once again as part of the New Dance Alliance Performance Mix Festival. Beauty in the Qi has been a long time coming!
2021 Artists in Residence

October 2nd-3rd, 2021:

DEBBIE MAUSNER is a performer, choreographer, and teaching artist from Brooklyn, NY. She studied dance at LaGuardia High School and graduated magna cum laude with a BA in Dance and Art History (minor) from Barnard College. While at Barnard, she performed in works by Pam Tanowitz, Mark Morris, Caitlin Trainor, Trisha Brown, Lucinda Childs, and Joanna Kotze. She has since collaborated and performed with Trainor Dance, Stefanie Nelson DanceGroup, Bryce Dance Company, Lu Dai, Carolyn Silverman, JACKS | Lexie Thrash & Kelsey Kramer, and visual artist Eric Gottshall.

Debbie's creative process is highly collaborative, idiosyncratic, and specific to the people she is working with. Her work for both stage and film have been showcased at Gibney Dance (Showdown), Triskelion Arts (WAXworks & Collabfest), 100 Grand, Spoke the Hub, Brooklyn Ballet, Greenspace, Freddy's Bar, The Plaxall Gallery, and Dance Complex. Debbie also teaches Creative Movement to young children, works as an Administrative Assistant for Dancio, and is a co-founder of emerging artist series Current Showcase (@currentshowcase). (https://debbiemausner.com/) (@debbiemakesdances)

Photo by Joshua Bryant-Gainer

Relay is a study of the process of transference — of how movements and ideas are transferred across space, time, and bodies, and of what is gained, lost, or altered in the process. It is also an exploration of repetition and disruption. How do we return to something known, and yet find new ways of approaching it that keep it moving forward? What happens when those repetitions are interrupted, and how can those moments of disruption repurpose the process? A reimagining of a quintet created in the tennis courts of South Oxford Park, Fort Greene, this trio adaptation for Degraw Street and 4th Avenue will approach this new site with curiosity, play, and rigor.

---

JKING DANCE COMPANY/JKDC, creating works that arouse diverse perspectives, cultural consciousness, questions actuality, and personal truths through the art of dance and storytelling. Additionally, we offer programs for young emerging artists to create, rehearse and share the stage with JKDC. We encourage teamwork, self-expression, and mutual respect.

JKDC, founded by Artistic Director Joyce King, is an all-female dance ensemble in Brooklyn, NY. Our innovative repertory, solely choreographed by King, has been presented at over 25 venues featuring JKDC dancers' athleticism, versatility, and compassion. We address delicate topics and preconceived ideas to awaken aesthetic values and emotional influences. Our repertory tells stories, some metaphoric, some literal-intermingling human behavior with ballet, jazz, modern, and acting. We are motivated to comprehend life's complexities in their simplest form, striving to build cultural bridges, encouraging dialogue, and exploring personal experiences and events that shake the social world.

Photo by Eric Bandier

'together-apart, working title, an excerpt' is a new work-in-progress born out of Artistic Director Kings' questions on health and well-being. Which dominates? Our mental, physical, or emotional health. Portrayed by three female dancers as 'roommates,' we explore the impact and challenges when one aspect is faltering or leading, dormant, even complacent. What will it take to create a sense of life balance?

---

INCLINED DANCE PROJECT is a female identifying Brooklyn based contemporary dance company which strives to present visually intricate landscapes inspired and propelled by human experiences. Inclined aims to challenge the conventional roles of a female dancer by creating virtuosic works that defy gender and stereotypical responsibilities. The company approaches dance-making through a "set and destroy" method, allowing the performers and collaborating artists the opportunity to deconstruct material and incite dialogue, exploration, and personal contribution to a work. The result is athletic, technical, and dynamic movement that challenges the dancer and engages audiences. Inclined Dance Project was founded by Kristen Klein in 2009 and the company has performed at many venues and festivals throughout the USA including BAM Fisher, Little Boxes Theatre, RAW Artists: Brooklyn & San Francisco editions, The Julie Ince Thompson Theatre at The Dance Complex, The Philadelphia Fringe Festival, Boston University, The BARNES Foundation, the Ailey Citigroup Theater, Baruch College, Dixon Place, Greenspace, Chen Dance Center, the Center for Performance Research, University Settlement, the Martha Graham Center for Contemporary Dance, The Flea, The Tank, The Winter Garden Theater at Brookfield Place, The Actors Fund Arts Center, Triskelion Arts, The Secret Theatre, The Totts Gap Arts Institute, and the International Festival of Arts and Ideas, among many others. Inclined Dance Project also supports the presentation of other emerging female choreographers through their split-bill series inQUAD, produced annually at Dixon Place, where they mentor young female-led dance companies in the step by step process of self-producing work. The company is a fiscally sponsored project of Fractured Atlas and has been featured in Dance Spirit Magazine, Dance Informa, Huffington Post, Critical Dance Magazine, DiY Dancer, FitEngine Reviews, offoffoff Dance, and on Dancemedia.com.

Photo by Andrew J. Mauney

"groupthink" explores how group dynamics influence identity, individual thought processes, and emotional responses. Development of the work began in 2019 through a series of discussions with the performers ranging in topics from how we identify as artists, how societal standards direct decision making, to personal encounters with friends, family, or strangers. These reflections from the performers were then translated into choreographed phrases, movement patterns, and interactions to mimic either specific events described by the dancers or to evoke particular feelings. "groupthink" is currently a series of multiple short sections pasted together, creating a broad narrative of dancer interactions. For Movement Underground we are focusing on specific sections of the work to expand and re-develop, specifically focusing on one-on-one dynamics between the performers. The work will feature 4 dancers and is set to a compiled sound score of various artists designed to enhance the mood and tone of the work.
2020 Artist in Residence

August 17, 2020:

RAHA BEHNAM is a Brooklyn-based choreographer, performer, and contemporary performance-maker. In describing her multi-national identity, and approach to performance, she says: "Conceived and born almost a decade after the Iranian revolution, my life has arisen out of the dust of destruction, turmoil, death, hope, and the sweat of my people. I make performance as a means of creating new cultural forms and possibilities in the face of loss, breakage, assimilation and forgetting. I am concerned with systems and practices for collective healing, and engaged in liberation work through community-based counseling.

Void in Vignettes is a culmination of two years of performance research into loss, longing and absence. I continue to negotiate with these themes, this time in collaboration with fellow artist and my sister, Nava Behnam. 

As a yearning for language and homeland continues to haunt the background of our lives, we consider what it has taken to survive. We weave a conversation through digital space, responding to each other's visual, verbal and embodied statements, exploring how familiar life circumstances have led to vastly divergent ways of being and existing in our adoptive worlds. 

Eva Dean Dance has a long history granting Brooklyn dance artists an opportunity to develop and present new work at our home studio, Union Street Dance.  Our Union Street Dance Artist in Residence programing is made possible by the Mertz Gilmore Foundation Late-Stage Creative Stipend. This RFP is Mertz Gilmore Foundation's effort to address the insufficiency of resources available to dance-makers in the later stages of their development process. The award comes with monetary support for the project, a space grant at Union Street Dance to rehearse and develop the work, and a public performance presented by Union Street Dance.